If you can't view this newsletter of Leiden 2022, click here for the online version.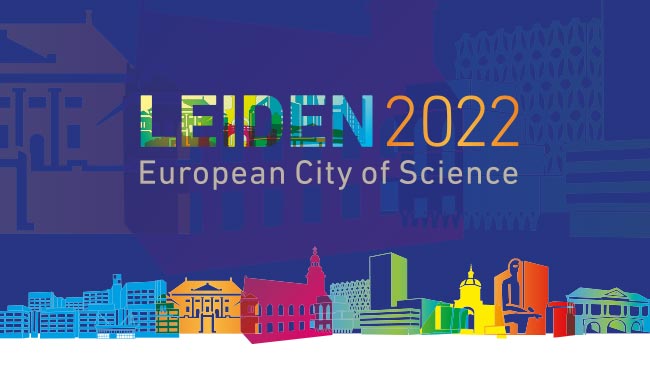 Leiden will be European City of Science 2022. Here is our latest news in the run-up to this incredible year, full of science, knowledge, arts and expertise. We have lots to share this month and we would like to introduce three new team members!
Leiden Kennisstad expert sessions
Together with Leiden Kennisstad, we organise a series of monthly 'expert sessions': online group meetings to discuss specific topics that bring to life Leiden2022. The February meeting focussed on engaging local schools and children in the Leiden2022 programme.
This month's session united a range of different organisers of talks and lectures, in order to create a coherent public programme. Future sessions will include the Climate Walk and the question how students in Leiden can contribute to Leiden2022. Lara Ummels, liaison officer at Leiden Kennisstad: "It's great to organise these meetings together and create as much synergy as we can. In 2022, Leiden will forever anchor that name at all levels, as a city of knowledge, as a city of science."
LUMC: From internship project to the European market
We would like to share a wonderful example of how scientific research can lead to practical solutions. Matthias van Oosterom, a postdoc at the LUMC started a research internship in 2014. A new technology he worked on, that allows surgeons to detect tumors more precisely, was recently granted CE certification. This means that other hospitals throughout Europe can now also use the technology.
The so-called 'DROP-IN gamma probe' represents a beautiful example of how fundamental research can lead to improvements in health care, and of how multiple disciplines can contribute hereto. "The advantage is that we developed this product in cooperation with instrument makers and surgeons," says Matthias van Oosterom. From standing in the corner of the surgery room to prototyping the first devices in LUMC's internal workshop: Matthias took the project to many places within the LUMC. Want to know more? Read the full LUMC-article here.


Job alert!
We are looking for a Coordinator Contemplate. If you are interested in managing and executing congresses, debates and other similar activities that will take place within the programme of Leiden2022, we would like to meet you.

Apply before 21 March 2021. For more information click here (in Dutch).
Meet our new team members

Roosmarijn van de Velde - Sidekick Intendant
Starting on 1 March, Roosmarijn (Rosemary) is the Sidekick of the Intendant Lucien Geelhoed. Rosemary was part of the succesful bid team of Leiden European City of Science back in 2017. Joining the bid team was Rosemary's declaration of love to Leiden, her alma mater. Since the bid, Rosemary and Lucien have collaborated on various projects in the city.
Coming from a background of International Studies, Rosemary can combine her two major passions in Leiden2022.
Lucien: "Rosemary has remained strongly involved with Leiden2022 throughout the years. The perfect fit: her enthusiasm and vision are representative of the consious generation. Together we can unlock young talent to its full potential."
Chris Jaeger – Project Manager 'Kennis door de Wijken' (Knowledge throughout the Districts)
This month we also welcomed Chris. Born and raised in Leiden, Chris is very enthusiastic about the Leiden region. This is why she started working for Leiden Marketing in 2017, promoting the city among the national and international scientific community and organising countless events.
Leiden Marketing introduced her to Leiden2022 and she has been involved ever since, whether it was organising stakeholder events, scouting possibilities at ESOF Toulouse and Trieste or producing Alice the Movie.
One of her main jobs at Leiden2022 will be to get the 101 districts involved. "Our goal is to connect people and science. I'm looking forward to meeting as many people as possible to achieve that goal." Chris is 33 years old, loves books, movies, games and always up for an adventure. We are very pleased Chris joined our team!

Hanne Riekerk - Intern Science Communication
We are happy to welcome Hanne as our intern science communication. Hanne is a master student Biomedical Sciences with a major in science communication. She is looking forward to a new and very different chapter in her science career and is highly motivated to learn the ins and outs of science communication for Leiden2022.
During her study she experienced how difficult it is to make interesting but complex science graspable. Building the bridge between science and society, and with that showing the wonders of science, is what drives her.
Fun facts
Did you know our 365-day programme in 2022 entails more topics than you can imagine. For example, 27 August will be all about bats, on 9 June, we unravel everything about coral, and we dedicate 11 October to mathematician Ada Lovelace.

Find out more inspiration in our second Playbook (in Dutch) to see where you might contribute or learn more about. The English version will be available soon.
About us
The city of Leiden will be European City of Science 2022, offering a 365-day programme for everyone with a curious mind. Together with numerous partners, we aim to develop a challenging programme that connects science with society. Anyone can take part, from leading international scientists to curious kids.

We want to raise the profile of science, knowledge, arts and expertise through local action with an international appeal on a national stage. At the base of our organization are our founding partners: LUMC, Leiden University, Municipality of Leiden and the University of Applied Sciences Leiden.

Want to join us or share your ideas? Please feel free to contact Lucien Geelhoed (intendant) at l.geelhoed@leiden2022.nl or Meta Knol (director) at m.knol@leiden2022.nl.

Subscribe to our newsletter here.