If you can't view this newsletter of Leiden 2022, click here for the online version.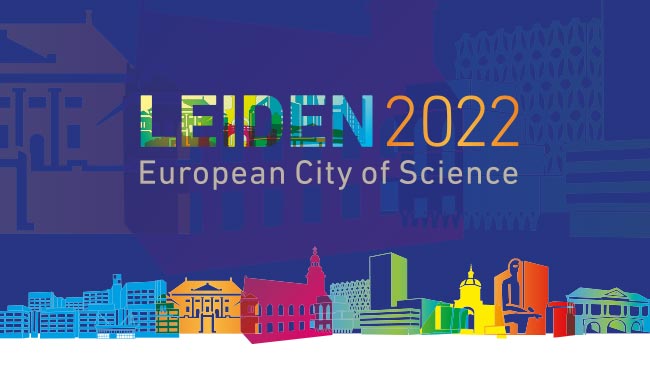 © Kees Hummel

In 2022, Leiden will be the European City of Science. Since the city first announced this extraordinary ambition, numerous plans have been made. But what will actually be happening? On Wednesday 28 October, Director Meta Knol will present the new strategy for Leiden European City of Science.

At this online presentation for the media, partners and public, we will be revealing the central theme for Leiden European City of Science 2022. We will tell you more about our mission and about the details of the programme. We have some fun and important news to share and will also make time to answer your questions.
Interested in finding out what's happening in 2022? Register now for this online presentation at www.aanmelder.nl/leiden2022. Please note: the presentation will be in the Dutch language.
EuroScience Open Forum
One of the more prominent components of the Leiden European City of Science will be the ESOF conference. This 'EuroScience Open Forum' is Europe's largest interdisciplinary science conference. On behalf of Leiden, two 'champions' have been appointed to provide specialist leadership for the ESOF programme: Corinne Hofman (professor of Caribbean Archaeology and former Dean of the Faculty of Archaeology) and Ferry Breedveld (professor of Rheumatology and former LUMC CEO).

In order to put together a state-of-the-art programme for the ESOF conference, a Scientific Council has been established made up of leading figures from Leiden University: Ewine van Dishoeck (Mathematics and Natural Sciences), Pieter ter Keurs (Archaeology), Frits Koning (LUMC), Rick Lawson (Law), Hannah Swaab (Social Sciences), Kutsal Yesilkagit (Governance and Global Affairs) and Rob Zwijnenberg (Humanities).

The ESOF conference is being developed in partnership with EuroScience in Strasbourg and will be held in Leiden in July 2022. Click here for more information.

You can contact Corinne Hofman or Ferry Breedveld by emailing esof@leiden2022.nl.
Opportunities for Leiden
In recent months, Lucien Geelhoed, Intendant, and Meta Knol, Director of Leiden European City of Science, have spoken to dozens of people in and beyond Leiden who are willing to contribute in one way or another to this special year. Despite the fact that all of us have to deal with the repercussions of the coronavirus crisis, it is great to see people looking forward to 2022 with such optimism. Martijn Bulthuis, Director of Leiden Marketing:



© Mark de Haan

"The title of European City of Science and associated programming offer unprecedented opportunities in terms of Leiden's image and international reputation as an academic city. This will put Leiden in the spotlight, enabling it to attract scientific conferences, international students and knowledge workers while also generating interest from internationally oriented business. What's more, I'm already looking forward to the dynamism in the city! For a whole year, everyone in Leiden will be part of a wide variety of experiments, research projects and discussions combined with festivities, lectures and voyages of discovery, forging a bridge between academia and the city once and for all. We may be strong individually, but together we're even stronger."
The Leiden European City of Science publicity machine is already gearing up for action. Meta Knol and Lucien Geelhoed were recently interviewed for IntoBusiness magazine. In the interview, they explain the plans and why they are so amazingly suited to the city of Leiden.

Want to know more? Check out the article (in Dutch).
Want to join us?
Science, knowledge and expertise are part of Leiden's DNA; packed with knowledge, culture and science, it is not known as the City of Discoveries for nothing. It therefore makes perfect sense for Leiden to become European City of Science in 2022, offering a 365-day programme for everyone with an inquiring mind.

Leiden European City of Science is set to reinvigorate public life after the coronavirus crisis. Together with the city, we will develop a challenging programme that brings together science and society. Everyone can take part, from leading international scientists to your local Gyro Gearloose. We will raise the profile of science, knowledge and expertise through local action, on a national stage, with international appeal.

Want to join us? If so, please contact Lucien Geelhoed at l.geelhoed@leiden2022.nl or Meta Knol at m.knol@leiden2022.nl.
You may already have noticed: we have two great job vacancies on offer at Leiden European City of Science 2022.

We are looking for a Commercial Coordinator & Fundraiser to keep things running smoothly behind the scenes and support our external networking role.

We are also in search of a sharp and live Science Communicator with an aptitude for presenting science in a social context and vice-versa.

Interested in joining us? The deadline for applications is 1 November at info@leiden2022.nl.
If you wish to stay up to date on all the latest news about Leiden 2022, then subscribe to the newsletter here and don't miss out on any of the developments around Leiden European City of Science 2022.